By Lieutenant Randy Ranalli
De-escalation is not a new idea in law enforcement. My agency has been teaching and training de-escalation concepts for over 20 years and many agencies have been as well. From mine, I learned the importance of talking to people as a de-escalation technique.
Meditation and mindfulness are skills that can also be part of de-escalation training as they keep officers calm and focused. Over time, these skills can help an officer respond more appropriately to the stressors in the moment. Officers are exposed to high-stress situations and critical incidents on a regular basis. The job's demands can affect a person's demeanor by making them aggressive and impatient. Additionally, these stressors can contribute to substance abuse disorders and mental health disorders. With other wellness practices like physical fitness, peer support and therapy, meditation can help officers lead a more well-rounded and healthier lifestyle.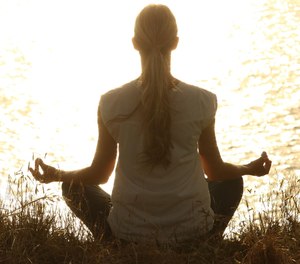 Officers can also benefit from meditation after a stressful call or impactful incident. Of course, the officer's safety is paramount, and it should only be done when the officer is 100% safe. For example, they could find a quiet place in their headquarters building after a stressful call. Then they can close their eyes and meditate. This would be similar to an after-action review or debrief at the conclusion of a call. Meditating can assist officers in getting back to their homeostasis and ready for the remainder of their workday.
WHAT IS MEDITATION?
Meditation involves paying attention to your breathing and being mindful of your inner self. This helps us detach from our surroundings and become aware of the present moment. A Scientific Reports study defines meditation as, "a form of mental training that aims to improve an individual's core psychological capacities, such as attentional and emotional self-regulation."
While the concept of meditation is simple, we sometimes make things harder than they must be. For example, meditation can be performed at any time throughout the day. You could follow some of my acquaintances' routines and begin your day with meditation and then end it with self-reflection and taking inventory of your day. But, like all habits, there will still be days when remaining disciplined is difficult.
BENEFITS OF MEDITATION
Meditation provides both short- and long-term benefits to an individual's life.
Researchers continue to emphasize the importance of meditation through their findings: "Clinical evidence suggests that mindfulness meditation reduces anxiety, depression, and stress, and improves emotion regulation due to modulation of activity in neural substrates linked to the regulation of emotions and social preferences." Essentially, they found it can improve your well-being due to its connection to areas in your central nervous system.
Additionally, meditation doesn't have to cost you anything, and you don't need any special equipment. But if you do choose to invest, there are inexpensive phone apps to help with guided meditations.
HOW TO MEDITATE
The goal is to escape from your daily tasks and thoughts in order to be in the moment. According to Mindful, a public benefit corporation dedicated to mindfulness, the best way to meditate is:
Set a time limit for as little or as long as you'd like.
Find a comfortable place to sit down.
Close your eyes.
Inhale and exhale through your nose to feel your breath.
Close with kindness and thank yourself for taking the time to meditate.
Mindful's article, "How to Meditate" also adds a few tips:
Make sure you are in a stable position you can stay for the entirety of the time limit you set.
If your mind begins to wander, focus on your breathing again.
Don't judge yourself for where your mind wandered.
HOW TO MAKE MEDITATION A HABIT
Like most activities, it takes discipline and dedication to work meditation into your daily routine. 
In How I Finally Made Meditation a Daily Habit," author Jess Cording points out that it's good to start small. For example, you can set a goal to meditate for two to five minutes per day. If you're a beginner, it's also easier to meditate with some sort of guide. To do this, you can download one of the many inexpensive phone apps.
It's also useful to experiment with meditating at various times throughout the day to find when works best for you. You could also reach out to a friend or co-worker who's interested in meditation in an effort to hold one other accountable. A good way to do this is to check in regularly throughout the day and give each other reminders.
CONCLUSION
If you are hesitant in trying meditation, just remember it is most often performed in solitary. It is just you and your mindfulness. You are free from judgment from others and the sky is the limit for health benefits. Try it. You will thank yourself.
NEXT: How yoga and meditation helped sharpen my aim
---
About the author
Randy Ranalli is a lieutenant with the City of Helena Police Department in Montana. Ranalli has served for 16 years with the Helena Police Department. Ranalli holds a bachelor's degree in sport management and business administration from Carroll College in Helena, Montana. Ranalli is a recent graduate of the FBI National Academy, Class 282. During Ranalli's tenure, he has served as a supervisor in the patrol division, detective division and drug task force. Ranalli is passionate about physical fitness and officer wellness. Ranalli is currently assigned to the patrol division. 

link