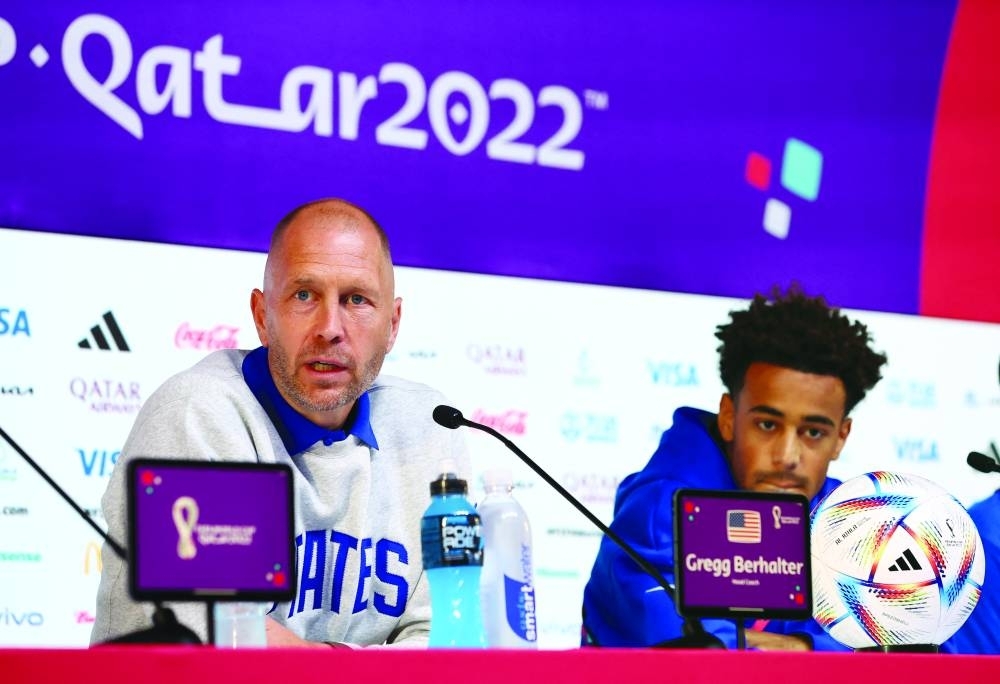 US coach Gregg Berhalter and player Tyler Adams during a press conference at the Main Media Center, Doha, Qatar, yesterday. (Reuters)
The United States and Wales will head into today's World Cup clash knowing that victory could decide one of Group B's two qualifiers, with England fancied as heavy favourites to advance as group winners.
With a golden generation of talent spearheaded by Gareth Bale and playing at their first World Cup in 64 years, Wales will be out to echo their recent successes at European level, having reached the Euro 2016 semi-finals and the last 16 at Euro 2020.
Manager Rob Page called up nine Premier League-based players to his World Cup squad – which US coach Gregg Berhalter said the Americans must not underestimate, despite Wales's preparations being hampered by injuries to key players including Joe Allen and Aaron Ramsey.
"I think that, at least to the American media, Wales is under-rated," Berhalter told reporters. "When I look at their squad, it's basically a Premier League squad.
"To me, it's a really good squad, a formidable squad. They've been in international competition before, they know what it's like.
"And it's going to be a very difficult game."
The US team endured a rocky run-up to Qatar and failed to score in September friendlies against Japan and Saudi Arabia, but Berhalter's youthful albeit unproven squad will look to silence critics when they return to the World Cup stage after eight years.
The Americans will be entering the contest with a rare clean bill of health with most of their first-choice squad healthy and available, and Christian Pulisic, Gio Reyna and Weston McKennie will all be out to leave their mark in their first World Cup appearance.
LONG-AWAITED RETURN
With Page boasting a settled core of players, many of whom gained vital big-tournament experience through the last two European Championship campaigns, Wales will have reason for quiet confidence on their return to soccer's showpiece event.
Neco Williams and Brennan Johnson are among the younger talents who have stepped up of late, allowing Page to be less reliant on veterans Bale and Ramsey, although their form and fitness will still be vital to Wales's campaign in Qatar.
With the old guard finally realising their World Cup dream in the twilight of their careers, Ramsey paid tribute to former manager Gary Speed for laying the foundation for Wales's upturn in fortunes before his death in 2011.
"Gary is always in our thoughts with everything that we have done," Ramsey said. "If you look at where we are now, you can see it has Gary's fingerprints all over it. He was the one who got things moving for us.
"Gary had this way about him that you would believe anything that he would say. One of the targets that he set when he first came in was to qualify for that World Cup (in 2014).
"We didn't manage to do so, so this makes it even more special that we have actually gone on to do that now. This means everything."
Tyler Adams named US captain for World Cup
Midfielder Tyler Adams has been named captain of the US Men's National Team for the World Cup in Qatar.
Adams, 23, will wear the armband when the US opens play in Group B today against Wales.
Adams, who plays professionally for the Premier League's Leeds United, has been the American captain for nine of his 32 previous caps. Seven of those games were during World Cup qualifying.
"We're proud to announce Tyler is the captain for the World Cup," USMNT coach Berhalter said yesterday.
"We think he has great leadership capabilities, he leads by his actions and his words."
Adams is the youngest captain for the US team at a World Cup since 22-year-old Harry Keough in 1950.
"It's a huge honour for me, obviously, to be named captain of this team," Adams said. "A very young team, but a lot of credit to my teammates because anyone throughout our leadership council can wear that arm band and represent us with pride and represent us in the right way."
Adams played for the US at the U17 World Cup in 2017 and made his senior national team debut against Portugal later that year.
The Wappinger, NY, native spent his youth career in the New York Red Bulls academy.
He recorded two goals and 11 assists in 52 MLS matches (49 starts) with the Red Bulls from 2016-18.
Adams played for RB Leipzig in the German Bundesliga from 2019-22 before joining Leeds United last July.
US V Wales
When: Monday, Nov. 21, 10pm local
Where: Ahmad Bin Ali Stadium Capacity: 40,000
Key stats:
? Wales are playing in the World Cup finals for the first time in 64 years, while the US return after failing to qualify for the 2018 edition.
? The last time Wales played in the World Cup, in 1958, they reached the quarter-finals, suffering a 1-0 defeat to eventual champions Brazil as Pele scored the winner.
? The US reached the final 16 in their last appearance in 2014, suffering a 2-1 defeat to Belgium.
? Wales qualified for the Qatar World Cup by beating Ukraine 1-0 in a playoff final after a 2-1 victory over Austria in the last four. Rob Page's side had sealed second place in their qualifying group behind Belgium.
? US qualified after finishing third in CONCACAF qualifying behind Canada and Mexico.
Previous meetings
? US and Wales have played each other only twice, both in friendlies, with the US winning 2-0 in 2003 and the other game ending in a goalless draw in 2020.
link