From the initial search, a total of 2587 articles were identified, from which 1035 duplicates were removed, leaving 1552 articles for further screening (Fig. 1). After screening by titles and abstracts, 79 articles remained and were examined in full text. Finally, 25 studies were deemed eligible for inclusion in the review. Reasons for exclusion of articles examined in full text can be found in Fig. 1.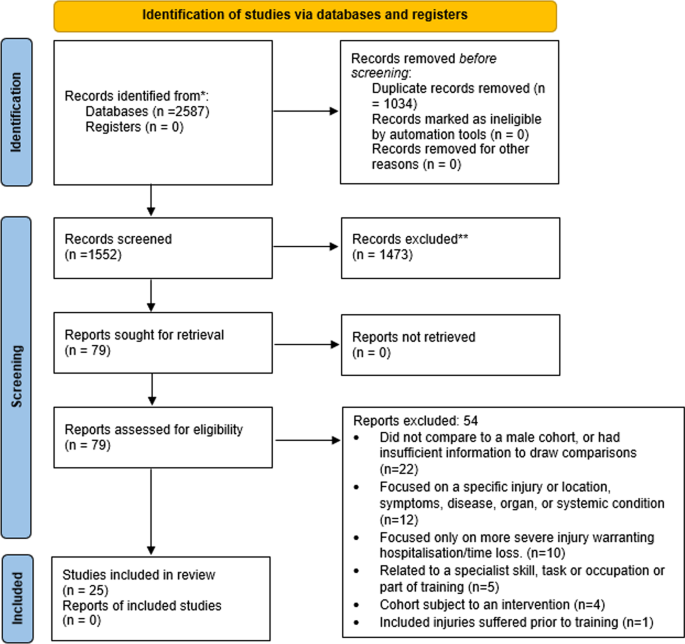 Included studies were mainly cohort studies (n = 19) [6, 20,21,22,23,24,25,26,27,28,29,30,31,32,33,34,35,36,37]. The remaining studies included five cross sectional studies [4, 38,39,40,41], and one case control study [42]. Methodological quality ranged from 60% [4] to a perfect score of 100% [22], with an average of 82% across all study types. Key data from each included study are presented in Table 2.
The studies were from a range of countries, with 19 from the United States [4, 6, 20, 21, 24,25,26, 28, 29, 31,32,33,34,35,36, 39, 41, 42], two from both the United Kingdom [22, 37] and one each from Norway [38], Greece [27], Ireland [30], and Slovenia [40]. Army was the most represented service, accounting for 18 studies [4, 6, 20,21,22, 24,25,26,27,28,29,30,31,32,33, 37, 39, 42], followed by Air Force, with four studies [23, 34, 36, 41]. Two studies were of the Armed Services more broadly [38, 40] and the remaining study involved Marines [35]. Investigations were most often conducted in basic training contexts, accounting for 14 of the studies [21,22,23, 28,29,30,31,32,33, 36, 41, 43,44,45], followed by active duty personnel for eight studies [4, 20, 24, 25, 34, 37, 38, 40], officer training for three studies [6, 27, 35], and Advanced Individual Training (AIT) or Initial Employment Training (IET) for two studies [26, 39]. All of the training performed in contexts outside the United States occurred in mixed sex training programs [27, 30, 37, 38, 43].
The most common method of obtaining injury data in the included studies was by reviewing medical records (n = 19), while some studies used self-report surveys [4, 20, 38], or a mixture of methods [23, 26, 40]. Only four studies accounted for fitness levels when comparing injury rates between the sexes [4, 6, 21, 22].
Injury rates
A total of 20 of the included studies reported that female personnel were injured at a higher rate than male personnel. One study reported that being deployed on operations was associated with lower injury rates for both sexes than pre-deployment training, however a significantly greater injury rate was found amongst female personnel when compared to male personnel, pre-deployment, while rates were similar during deployment [20]. Four studies reported that there were no differences in injury rates between male and female personnel [24, 30, 38, 40]. Two studies [6, 39] followed personnel through to later in their initial training, observing injury rates of officer cadets either at the end of their first semester and then second semester [6], or recruits after initial training and during Advanced Individual Training [39], and found there were no significant differences in injury rates between female and male personnel during those later training stages, despite initial higher rates in female personnel.
A total of 12 studies reported on injury rates during basic training. A meta-analysis of key findings from these studies (Fig. 2) yielded a higher incidence rate of injury during basic training in female personnel than in males (RR = 2.10 [95% CI 1.89–2.33]), however with a high level of heterogeneity across the 12 studies (I2 = 99%).

Four studies reported on injury rates during officer training, including at the US Military Academy at West Point [6], the US Air Force Academy [23], the Greek Hellenic Army Academy [27], and Marine Corps Officer training [35]. Cadets were monitored for a duration ranging from six weeks [6, 35] to one year [23]. Meta-analysis of the four studies (Fig. 3) found a higher incidence rate of injury amongst female personnel, with a RR of 1.70 [95% CI 1.33–2.17].

Eleven articles reported on injury rates after the completion of basic training, including during AIT [26, 39], at the latter stages of training at the US Military Academy [6], during a Sergeant Majors' course [24], in active duty United States military personnel [4] and British Army personnel [37], in a US armour division [25], in active duty personne in the US Air Force l [34] and Norwegian [38] and Slovenian Armed Forces [40], and both pre and during deployment in the study by Anderson et al. [20]. Figure 4 shows a meta-analysis of these studies, which found the overall injury incidence rate was higher in female personnel than male personnel (RR = 1.23 [95% CI 1.05–1.43]).

Of the articles which took fitness into account, three of the four [4, 21, 22] found that differences between the sexes in injury incidence rates were no longer significant once adjusted for fitness levels. However, the fourth study, despite finding the difference in injury rates between sexes decreased substantially, still showed a significantly greater injury incidence rate among female cadets [6]. Both the study by Anderson et al. [4] and that by Bell et al. [21] provided risk estimates which were combined in a meta-analysis (Fig. 5), which in turn found no difference in injury rates between female and male personnel (RR = 0.95 [95% CI 0.86–1.05]). Despite not providing adjusted risk estimates for each sex, the study by Blacker et al. [22] found that gender did not feature in a multivariate regression model which explored risk factors for injury, while fitness level did.

link