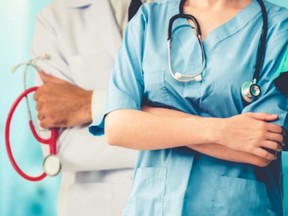 Article content
Wait times are the unofficial form of rationing in Canada's health-care system.
Article content
Our system doesn't determine who gets treatment based on who's insured and who isn't. Instead, Canada's government-run health monopolies puts hundreds of thousands of patients on wait lists – over 1.2 million by latest count – to see which of them can live long enough to be treated by a specialist.
Article content
The big problem is not that in 2022 the average Canadian patient waited 27.4 weeks just to see a specialist and begin treatment after being referred by his or her family doctor. That's bad enough and it's up nearly two weeks from 25.6 weeks in 2021.
Article content
Worse is the fact that that average wait times for treatment are more than six weeks longer than is "medically desirable." We're not beginning our treatments until a month and a half after our best chances of recovery.
Article content
It's one thing, for instance, to suffer with pain and immobility for 12 months while you await hip surgery – time away from work, loss of enjoyment with grandkids, deterioration of fitness. But it's another affront altogether if, while you're waiting for a joint replacement, your body deteriorates to the point where you will never be fully your old self.
Not surprisingly, where you are in Canada – even where you are in your own province – also factors into how quickly you get treatment.
According to the Fraser Institute, which has been producing a Waiting Your Turn annual report for nearly 30 years, the shortest wait times are in Ontario (20.3 weeks), while the longest are in PEI (64.7 weeks).
That's not surprising. Ontario has several cities offering the size and lifestyle that appeals to doctors who have spent an average of 12 years training in their medical niche.
Article content
There's also an appeal to specialists to have a critical mass of other specialists and high-tech labs, recovery facilities and consulting physicians near at hand. That would explain why Toronto and Edmonton, Vancouver and Montreal, for instance, have more specialists than, say, Summerside, P.E.I. or Fort St. John.
But most of the problems with Canadian health care come from our obsession that all care must not only be paid for by the government, but delivered by government, too.
Lots of other countries have a single-payer system, but far fewer duplicate our single-provider system. Single-provider is the health-care equivalent of letting Canada Post deliver all the parcels in the country.
Article content
Your online order will arrive before Christmas … next year.
In Canada, for instance, about one in five workers inside our provincial health-care systems are bureaucrats who have nothing whatever to do with patient care. Indeed, some calculations put the ratio closer to one in four.
Managers managing managers add little or nothing to health outcomes. If anything, they act like a sandbag on a bird's tail. All those bureaucrats produce so many needless reports that frontline workers have to fill out they take critical time away from patient care.
Germany may spend more money per capita on health care than Canada does. But their appearance in the top 10% of health outcomes in the developed world (Canada is in the bottom 20%) has more to do with their ratio of bureaucrats to front-line workers (just one in 10) than their spending per patient.
Consider, for instance, that Newfoundland with the highest per capita health spending in the country has waiting lists 50% longer than Ontario.
It's the same in Alberta. Too many bureaucrats get in the way of providing patient care. The fastest growing category of health worker in Alberta since 2005 has been "administration."
Unless and until we start permitting private innovation in health care – still paid by government regardless of patients' means – our system will become more clogged and stagnant.
link