Missouri police believe that a paramedic died from asphyxiation after being found dead in the early morning of May 24 under a piece of gym equipment.
Emergency service officials have issued a warning after the incident.
"Working out and maintaining a good fitness level is important in fire and EMS, because we do have a physically demanding job," Dr. Asa Margolis, D.O., said. "It can be absolutely, physically demanding. Maintaining good health and fitness is important for injury prevention and longevity"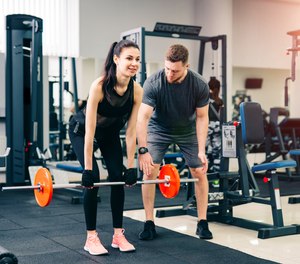 Dr. Margolis, the medical director of Johns Hopkins Lifeline Critical Care Transport Program; associate medical director, Howard Department of Fire and EMS; associate emergency medicine professor at The Johns Hopkins University School of Medicine; and EMS Fellowship director said, "Working out safely is paramount. Doing any kind of lift, especially a new weight, have someone there as a spotter."
"Using a spotter, especially on exercises such as squats and bench press is mandatory when lifting heavy," said Kayla Schmit, human performance specialist assigned to the Frederick County (Maryland) Department of Fire and Rescue. "The lifter is potentially under a lot of weight and it could result in major injury if not monitored."
Paramedic remembered for her positive outlook
These warnings come after Dolores Boschert, a 23-year-old paramedic working out alone was found dead by another gym member after she was pinned by a barbell on the ground.
"She was all by herself. There was no one else in the gym," St. Charles Police Capt. Ray Floyd told local media after the victim was found just before 3 a.m., 20 minutes after the incident occurred. Aid was rendered until emergency officials arrived on the scene.
Police reported that Boschert was squatting on a Smith Machine, a piece of weight-training equipment. "We believe she either lost her balance or a muscle gave out and she fell forward and the weights she was using pinned her to the floor," Floyd said. "We believe she probably died from asphyxiation."
Samuel Galvagno, D.O., PhD, professor at the University of Maryland School of Medicine, Department of Anesthesiology, noted the death rate with asphyxiation is nearly 60% and occurs after severe compression to the chest or abdomen.
"Many patients have injuries such as pulmonary contusions, hemothorax, pneumothorax, flair chest and pericardial hematoma," Galvagno said. "Prompt treatment with attention to the reestablishment of oxygenation and perfusion."
Boschert, named "Paramedic of the Year," was a paramedic with Christian Hospital Emergency Medical Services.
In a Facebook post, Christian Hospital EMS said, "If you're in around the EMS field, you knew Dolo and her vibrant energy. She always lit up any room she entered with her bright personality and bouncing energy. She had the greatest outlook on life and was always able to see the positive in all situations."
"We are grateful for the memories we made with Dolores that will stick with us the rest of our lives," Christian Hospital EMS's Facebook post concluded.
Safe workout strategies
FireRescue1.com Executive Editor, Marc Bashoor, retired Highlands County, Florida, public safety director and Prince George's County (Maryland) fire and EMS chief, emphasized Dr. Margolis and Schmit's comments.
"When using free weights, never lift alone and always use bar collars to hold weights in place," Bashoor said. "The (slightest) imbalance without the collars can lead to slipped weights and injury."
Bashoor added, when working out, offer to spot or help others where you feel you can have a positive influence. Never hesitate to ask for a spot or help yourself.
Bashoor, who has a greater than 30-year history in the fire and EMS service and a personal journal of improving his health, fitness and lifestyle, offered these additional gym safety recommendations:
Understand that physical fitness and training is much more than just "lifting weights." Exercising the entire mind, body and spirit is crucial to a well-tuned and rounded person.
Like any other physical occupation, firefighters and EMS personnel should focus exercise on job function activities: push, pull, lifts, core, strength and cardio work.
Use "tools at hand" when gym or workout machines aren't available: rescue ropes, hose lines, sledgehammers, tires, mannequins, etc.
A combination of sensible nutrition, mental stability, moral focus and physical strength combine to build the person, mentally and physically.
Schmit, added "one of the most important rules of weight training is form before weight. If you can't lift something with good form, you should decrease the weight until you can complete the prescribed repetitions without sacrificing form."
All the medical professionals agreed that building strength takes time in the gym, so don't rush into going too heavy while you can't handle it.
"Using proper form and technique in the weight room is one of the most effect ways to avoid injury," Schmit said.
Schmit, offered suggestions to fire and rescue personnel for safe weightlifting:
When in doubt, ask. If you do not know how to use a piece of equipment, ask someone. If you are alone, then find an alternative exercise to complete.
Ensure that all your gym equipment is in good enough condition for use and free from any harmful damage. Do not use damaged or broken equipment.
Using proper safety equipment when lifting is necessary. Safety pins, safety arms or straps can be your spotter for the lifts that you miss. Utilizing collars on the barbell will help avoid weights slipping off the bar.
Be aware of your surroundings. Know the layout of the layout of the gym area and be aware of potential hazards.
When working out and lifting weights, you need be taking in fluids before, during and after the workout. It is very important to stay hydrated with both water and electrolytes.
Proper nutrition before and after your workout is crucial for energy supply. You should fuel your body with proper nutrients 1-2 hours prior to your workout and refuel your body with good sources of protein and carbohydrates within two hours after your workout is completed.
"Listen to your body and know your limitations," Schmit said. "Let someone know where you are going to be working out and give them a timeframe of how long you plan to be working out."

link