Men continue to outnumber women in the weight room. Why?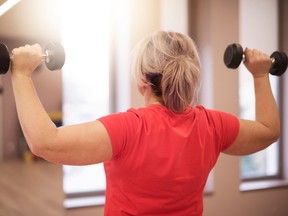 Postmedia may earn an affiliate commission from purchases made through our links on this page.
Article content
The idea a muscular physique is more desirable in males than females is one of the main reasons the weight room was primarily a male enclave. Those views are changing. Not only are women more comfortable sporting a few muscles, the health, fitness and performance benefits of strength training are getting more attention than its role in building bigger biceps.
Article content
Still, according to research published in 2020, men continue to outnumber women in the weight room in five of the six countries polled (including Canada), with Australia the only exception. According to a 2017 publication by the U.S. Bureau of Labor Statistics, approximately 70 per cent of people weight training on any given day are male. Men also spend more time per week in the weight room than women, a trait that's consistent even among elite athletes.
Article content
Why do fewer women than men lift weights on a regular basis?
A 2023 article in the Journal of Strength and Conditioning Research by James Nuzzo reviewed how men and women vary in all aspects of strength training, including motivation, participation rates, injuries and physiology. The goal is to better inform fitness professionals on how to break down barriers that keep women out of the weight room and for women to better understand their potential to get stronger and healthier. Men naturally have more muscle mass and size than women, but that doesn't mean women have any less potential to gain strength.
Article content
The difference in muscle strength and size between the two sexes is more nuanced than you may think, with female upper body strength 50 to 60 per cent that of men and female lower body strength about 60 to 70 per cent of male lower body strength. Female core/trunk strength is about 60 per cent that of males. The greater deficit in upper body strength versus lower body strength makes sense when you realize that upper body muscle mass in women is 60 per cent that of men while female lower body lean mass is 67 per cent of men. Nuzzo says these differences remain even among powerlifters, with the 1RM (the maximum lifted in a single attempt) for elite strength-trained women 46, 56 and 61 per cent less for the bench press, squat and deadlift (respectively) when compared with male powerlifters.
Article content
There are lots of reasons men are stronger and carry more muscle mass than women, including circulating hormones like testosterone, greater height, bone length, etc., but that doesn't mean women have any less potential to gain strength than men. An analysis of 50 studies on the changes to muscle size and strength after following a strength-training program consistently revealed that relative improvements in muscle strength and size between the sexes were similar, with women showing a greater relative gain in upper body strength.
It's important to note most studies comparing the relative strength gains between men and women have both sexes follow the same weight-training program. But in real life, women differ from men when it comes to the way they approach strength-training workouts, including the exercises they prefer, the type of equipment used and the intensity of their workouts.
Article content
Women generally prefer weight-training machines to free weights and spend more time training their lower body. Men are the opposite, prioritizing upper-body training and preferring free weights over machines. Women are more likely than men to prefer training alongside their own sex and are more amenable to training under the supervision of a trainer and coach and/or following a program designed by a professional. Men prioritize weight training over other workouts, while women tend to put cardio ahead of weight training.
As for motivation, one study reported the primary motivation to exercise for men is to build muscle, whereas the primary motivation to exercise for women is to lose weight. Stated differently and keeping in mind there are exceptions, men train to get bigger and women train to get smaller. For women, the fear of becoming big and bulky is often cited as a reason not to weight train or to limit their potential to be as strong as they could be. Some concerns regarding the potential for weight-room workouts to contribute negatively to the body image of females is tempered when women work with a trainer. Women who work with a trainer reported being more comfortable working with free weights, training their upper body and working out alongside men.
Article content
What can we learn from the differences? While the guidelines for strength training are gender neutral, there is a gender gap in how and why women approach weight training. As such, trainers, gym owners and public health messages should consider how to appeal to the unique interests, needs and motivations of women. Women-only weight training workshops, male and female trainers who are educated on how to encourage more weight training participation among women and ensuring a weight-room culture and design that welcomes women and their weight-training preferences are all key to getting more women in the weight room.
Fitness: When life is a pain in the knees, keep moving

Fitness: It's never too early to train for better balance

Fitness: Which has more impact on long-term health — diet or exercise?
link