The emergency services communities in Washington and Frederick counties in western Maryland, and Schuylkill County, Pennsylvania, are dealing with tragic losses this week after three firefighters died in separate incidents.
Hagerstown Fire Department (Washington County, Maryland) Fire Apparatus Operator and Clear Spring Volunteer Fire Department Chief Zachary Reid, 32, died earlier this week as a result of a vehicle crash while off-duty. Reid, employed with HFD for eight years and volunteer fire chief since 2021, leaves behind a wife and three daughters as well as active immediate family in the fire service and many close friends.
In a social media post Monday, Reid's father, Captain Michael Reid, wrote "this is the hardest notification I've ever had to make! It is with a completely broken heart that I announce the death of my son Fire Chief Zachary Reid who died this morning from injuries suffered in a traffic accident."
Just days later, Frederick County (Maryland) Division of Fire and Rescue announced the death of firefighter Zachary Paris, 36, who died from injuries sustained while operating with his volunteer company on a three-alarm house fire in West Penn Township, Pennsylvania. Also killed in that incident was New Tripoli Fire Company Firefighter Marvin Gruber, 59.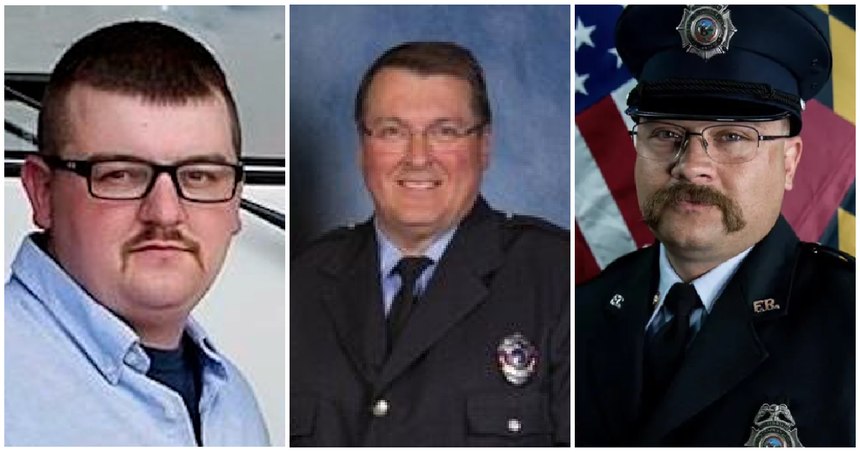 "There are no words to describe the sadness myself and the members of Frederick County Division of Fire and Rescue Services are feeling today. Not only was Zach [Paris] someone who was living out his dream of becoming a career firefighter, but he was also living out his dream as a family man", said Fire Chief Tom Coe in a press release. "We often take for granted that firefighters not only serve members of the community where they work, but many also selflessly contribute to the communities where they live." 
Paris, of New Tripoli, Pennsylvania, was hired in February 2022 as part of Frederick County Fire and Rescue Recruit Class 32. He graduated from the academy in September 2022. After the academy, he was assigned to the Glenn Valley Fire Station.
"Losing another one of our brothers, especially this time of year, is heartbreaking", said International Association of Firefighters Local 3666 President Stephen Jones. "We stand ready to support his wife and children during this tragic time."
Recognizing PTSD, depression
I spoke with Jeff Dill, retired fire captain, international speaker and founder of The Firefighter Behavioral Health Alliance (FBHA), about how to recognize the warning signs when we or someone we care about are struggling with processing a loss, or suffering from depression or PTSD.
For 13 years, Dill said that when FBHA counselors and chaplains open sessions with family members by asking, "when you hear the term firefighter/EMS what words come to your mind?"
"They have been the same answer … brave, strong, courageous, sacrificing, heroic," Dill said.
"Society can be brainwashed into believing that emergency service personnel are cut from a different cloth, so when we lose a firefighter/first responder, it seems unfair or unjust," Dill said, "because these are people we see as brave and invincible, so it is a deeper shock to our system and tougher to comprehend when we lose one of them." 
However, "It is important to note that people tend to process tragedies at different speeds, so having weekly sessions just to talk either as a department or individually should be arranged by the department officers, with assistance provided by peer support, chaplains or counselors," Dill said. "There are also chaplains and culturally competent counselors to assist members as well as their families during tragic events. In 2019, the National Volunteer Fire Council and FBHA teamed up to create a national directory of vetted counselors who work with first responders."
The FBHA performed a national survey of the top five warning signs of firefighters and EMS (workers) who were struggling with PTSD, depression and suicidal ideations, according to Dill.
Dill said that family, friends and coworkers should look out for these traits in someone that may be suffering from PTSD or depression:
Recklessness/impulsiveness
Anger
Isolation
Loss of confidence in one's skills and performance
Sleep deprivation
"There are others, such as turning to addictions or lack of communication and personality changes," Dill added. "FBHA has always promoted for people to be direct and challenge with compassion when they see a brother or sister struggling."
Dill, who holds a master's degree in counseling and is a retired fire captain at Palatine Rural Fire Protection District in Inverness, Illinois, travels the United States and Canada holding workshops to educate firefighters, dispatchers and EMS about behavioral health awareness and suicide prevention. In 2010, FBHA began tracking and validating data on all firefighter, EMS and dispatcher suicides across the United States. In July 2021, Dill was appointed as the new Behavioral Health Administrator for Las Vegas Fire and Rescue.
"The volunteer fire community is a special bond of firefighters, EMS and dispatchers who not only perform the dangerous jobs of being a first responder, but they are also neighbors, coworkers in businesses in their towns and many are relatives of each other," said Dill. "In a fire department, especially a volunteer department, the loss of their chief can be detrimental both in the physical aspect, meaning they lost the leader of the department but also have a deep emotional impact because they also lost a community member."
Dill also encourages first responders to perform what the FBHA calls an internal size-up daily, by asking yourself two questions:
"Why am I acting this way?"
"Why am I feeling this way?"
"The best solution is to listen to others because they see us better than we see ourselves," Dill added.
Additional resources for coping with grief

link